THE BRAND CONTEXT
Nat C Product Group is a supplement food brand that is suitable for the whole family because it helps to provide a high amount of vitamin C to enhance customer's health without side effects. In this period, Nat C's campaign has the dominant market share of voice (SOV) with good performance due to Brand recalled test. 
THREAT
There are a lot of competitors in the market that have the same function as Nat C Product Group.
OPPORTUNITY
Taking Vitamins/nutritional supplements helps to improve health significantly by boosting the immune system during the Covid time. When the Covid passes, the need slightly decreases but still high.
BRAND MISSION
Build a branding campaign for Nat C Product Group with the goal of educating customers about the importance of taking vitamin C in boosting immunity during the covid time.
INSIGHT
We are all worried about something sometimes. That's totally normal. To some people, worries scare them away. To others, worries just means thinking a lot about something 
and then finding out the best solutions. Worries push people forward.
If they are worried about not having good health to take care of the people they love, care about and need them the most, they will find a way to improve their health, not stop doing the things they're doing. 
And Nat C is here to be part of their health, to help them become less worried and stronger. We help them turn worries into motivation. 
BIG IDEA
When worries are motivation. Pushing people boost the immune system to loving fullness. 
Vietnamese people  usually don't say things straightforwardly. So why don't we turn Nat C into a means to express "love" words for Vietnamese people.
EXECUTION KEY VISUAL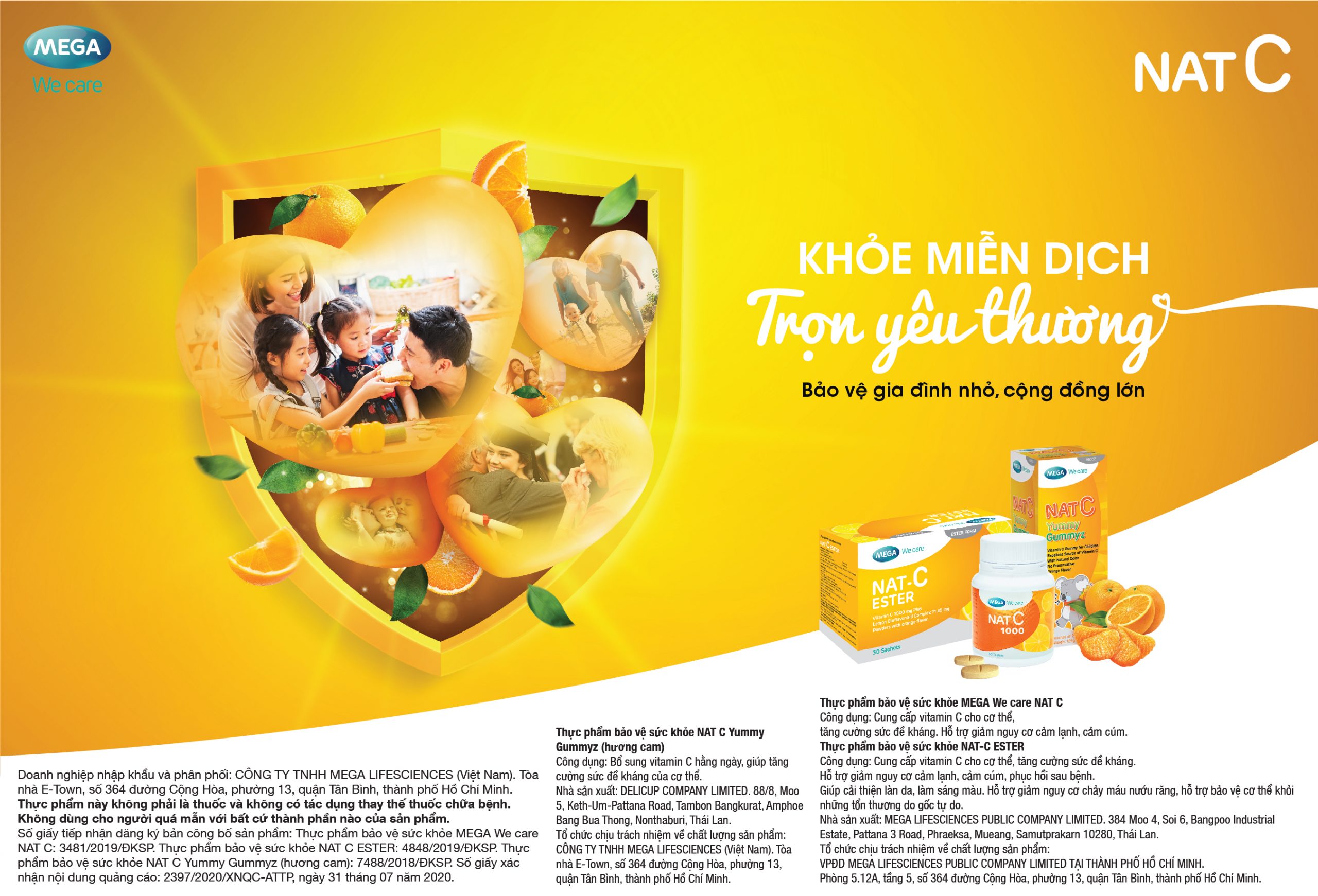 THEMATIC iTVC
KOLs
Taking advantage of Thuy Tien's influence to spread the message of having good health by having a strong immune system thanks to Vitamin C. And by having that we can help others and build a sustainable community.
https://www.facebook.com/permalink.php?story_fbid=10160349785982437&id=108910652436
PR
https://eva.vn/suc-khoe/can-mien-dich-de-khang-khoe-manh-de-phong-benh-c131a424855.html
https://www.24h.com.vn/suc-khoe-doi-song/bat-mi-cap-doi-sang-gia-nhat-nam-chi-chi-em-em-khoe-dep-suot-bon-mua-c62a1177073.html
RESULT
iTVC: During the period from July 14, 2020 – July 25, 2020, Nat's " CHIẾN BINH GIẢI CẢM – GỌI TÊN VITAMIN C " campaign earned 605,423 impressions and 502,071 video views.
KEY VISUAL: In terms of ADX, Mobile inpage , SEM, the impression & clicks are quite high, quite effective, proving that running ads is having positive feedback from users. The bounce rate is low, which is better than the general industry benchmark.

KOLs: During the period from November 07, 2020 – December 02, 2020, Thuy Tien's post for promoting Nat C earned 19,697 sessions and 17,484 users for landing page. Also, helping Nat C Fanpage increased 5,796 likes and 64,405 organic reach.